Discover more from Breaking the News
Dispatches from a veteran reporter
Over 17,000 subscribers
The Skill Involved in Zelensky's Congressional Address
The words of the speech were 'left brain,' with careful writerly eloquence. The in-person performance was 'right brain,' with emotional power beyond the words. The combination was remarkable.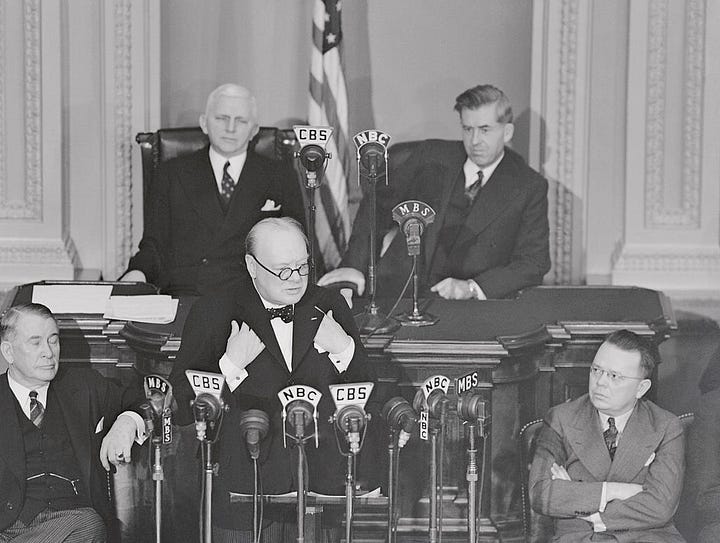 This post starts with some major "staging" choices Volodymyr Zelensky made for his address to Congress this week, including that he would deliver it in English and while dressed in his familiar wartime wear. Then we'll move to some significant line-by-line aspects of the text itself.
In both parts I'll be saying that the speech was carefully thought out as a piece of writing, and powerfully presented as a moment in living history. Zelensky could hardly have done more, or done anything more effective, to get his country's message across.
We often hear about presentations that work on different levels, as appeals to both head and heart. "Tear down this wall," at the Berlin Wall. "Ask not what your country can do for you," in bitter January cold from the inaugural stand at the Capitol. "I have a dream," in August heat from the Lincoln Memorial.
We have no idea of Ukraine's fate a year or a decade from now, nor of Volodymyr Zelensky's ultimate place in history. But I think this week's speech will stand as another important example of combining moment, message, and messenger to remarkable effect.
---
The set-up.
Zelensky's speech came 10 months after Russia launched its invasion of Ukraine. It came 81 years after Winston Churchill stood in the same place at the Capitol, with the same Constitutional officers (vice president and speaker of the House) seated behind him, to a similar joint meeting of the Senate and House. There he made a similar appeal for assistance, to a United States that, just after Pearl Harbor, had finally entered the war against Nazi Germany and Imperial Japan.1 The photos of the two presentations, above, suggest how much is traditional and constant in American procedures, and how much has changed.
Zelensky's speech was also part of series he has made to international audiences since the invasion began. The previous ones had all been virtual, over tele-links from Kyiv and elsewhere in Ukraine, because of Zelensky's wartime role. In each of them he has argued that Ukraine was the frontline in the battle between dictatorship and democracy, between rule-by-force and rule-of-law.
The official English versions of these speeches, which have all been delivered in Ukrainian, have been notable for their careful craftsmanship. Zelensky and his team knew what allusions to make, what chords to strike, what historical and cultural parallels to draw, when speaking to each of his audiences. I wrote about two of these virtual addresses—to the U.K. Parliament on March 8, and to the U.S. Congress on March 16—soon after they occurred.2
The text of this latest speech showed the same deftness and unusual care. Zelensky has someone who is good, and is good in English, working with him. The early speeches had the breathtaking drama of being delivered from cities under attack, much as with Zelensky's original, history-changing "We are here" short video. This week's presentation had different drama because of two additional risks he took. Those were:
Delivering the speech in person, which entailed risks of the obvious sort, but also allowed Zelensky to see, face-to-face at the White House and in the Capitol, the very people who will be deciding what American "support" for Ukraine will actually mean.

Delivering it in English, which was risky in a different way that has gotten too little notice, but enormously magnified his connection with the audience.
---
On language, eloquence, and 'intelligence.'
Let's talk for a minute, in English, about this language choice, and the trickiness of trying fully to express yourself in other than your native tongue.
Of course countless billions of people navigate language gulfs every day. The business, political, academic, sporting, and other leaders of many countries have grown up as comfortable in English as in whatever else they spoke at home. In many parts of the world people have always grown up speaking multiple languages. In the past half-century, it has become more and more likely that one of those languages will be English, as it has crowded out French, German, Swahili, etc. as the "second" language people will know. A lingua franca, you might say.
But if you didn't grow up with ease and command of particular languages, you recognize the difference between doing business in them, and being fluent. To make this personal: I "know" a lot of languages, and have often blundered through my day in them. But I have never once dared express myself in public, in a speech or interview or TV show, except in English, with reliance on interpreters.
Why? Because I know I would come across differently from what I intend. And this is because of the inevitable unspoken equation of command of language—its nuances and patterns, the signals of its subtle word choices—with depth of thought. With intelligence. With range of personality. This is "unfair." But it is true. (A cruel everyday experience in the United States: meeting someone who had been a professor or surgeon or government official in Afghanistan or El Salvador or Congo, and hearing that person switch between fluid, expert-sounding discourse in a native language, and halting transactional comments in their diminished Anglosphere roles.)
This reality does not matter if the message you're conveying is purely transactional: "I would like a sandwich." It matters more, the more complicated and considered your message becomes. It matters tremendously if your message to the most powerful government on Earth is: "My country is deeply grateful for what you have done, but it is appropriate that we ask you to do more." Or, "We know that we will win, but we need your help to make it so."
As it happens, these were essentially the messages that both Prime Minister Churchill, in 1941, and President Zelensky, in 2022, were conveying to the U.S. Congress. And in presenting his, Churchill went out of his way to stress the bond of shared (native) language. He began his speech:
"That here I am, an Englishman, welcomed in your midst, makes this experience one of the most moving and thrilling in my life, which is already long and has not been entirely uneventful… [Laughter]

"I may confess, however, that I do not feel quite like a fish out of water in a legislative assembly where English is spoken. I am a child of the House of Commons." [You can read the speech and listen to some of it here.]
It was natural, it was off-hand, it was from a master of the language addressing others who understood all its cues. (Recall that, bizarrely, Churchill won the Nobel Prize for Literature in 1953.)
Time magazine named Winston Churchill its "Man of the Year" for his resolve in leading Britain in 1940. Time recently named Volodymyr Zelensky its Person of this year for his resolve in leading Ukraine. That is a similarity in courage between the two, and in their individual roles in changing history's path. (Despite the difference in heft of "Person of the Year" recognition between then and now).
But among the obvious differences between Churchill and Zelensky is that Zelensky did not grow up with command of English. He "speaks" the language, which makes an enormous difference in, for example, his ability to chat with Joe Biden when they met at the White House. But he does not swim in it. It is a foreign-enough medium for him that, at numerous important points in this week's speech, initial news transcripts mis-understood what he said, because of the way he pronounced the words.
[For instance, he meant to say "Standing here today, I recall the words of the president Franklin Delano Roosevelt, which are I think so good for this moment." But it sounded like "I recall the wars … which I think are so good for this moment", and that is how the New York Times and C-Span initially rendered his comments. He had a line expressing thanks "from everyone who is awaiting victory" in Ukraine. It sounded like "avoiding victory." He made several word-plays in English, for instance the connection between "Patriots" (missiles) and "patriots" (defending their country). These were evident in the transcript but less so to listeners. When he meant to say "cherish," it sounded like "cheers." And so on.]
Why do I mention this? It is not to nitpick but to notice, and to praise. Zelensky, who has become a history-changing leader but began as a performer, for deciding to go all-in on the emotional and personal connection he could make with American legislators and the American viewing public. He must have known that this way he would sound clumsier and worse. (This is not like some Dutch or Swedish leader giving a speech in Oxford- or Stanford-toned colloquial English.) But he must also have reckoned that his message would seem clearer, more earnest, more direct, more urgent if he spoke to his audience in their own language. And he was right. Lumbering this address with the burden of interpretation would have made him more "eloquent" but more distant, and changed all the dynamics in the room. His dress was informal, and so was his language. There's a war going on.
A moment, a message, and a messenger came together.
---
Let's go line by line.
What do I mean by saying that the English-language, "as written" version of the speech was skillfully crafted? Here are a bunch of illustrations, working from text versions that avoid initial transcription errors. In these notes I've added emphasis to parts I want to highlight, and inserted comments in brackets [like this].
The "formal" part of Zelensky's speech began: "Dear Americans, in all states, cities and communities, all those who value freedom and justice, who cherish it as strongly as we Ukrainians in our cities, in each and every family, I hope my words of respect and gratitude resonate in each American heart."
[In this one sentence, right at the start, Zelensky summarized the entire message of the speech. Namely: common cause, common values, and common purpose; the stakes for freedom and justice in the fate of Ukraine; and his gratitude and respect. He is going to be asking for more, so he wants to start off sounding grateful for what the U.S. has already done.]

Even before that formal beginning, Zelensky had responded to prolonged introductory cheers by ad libbing, "Thank you so much for that. It's too much for me. All this for our great people." [Real leaders are fully aware of their own importance, but know how to deflect praise to the larger cause.]

The next part of his "formal" beginning struck the note of bi-partisan appeal that ran through the entire speech:
"Dear members of the Congress, representatives of both parties who also visited Kyiv, esteemed congressmen and senators from both parties who will visit Ukraine, I am sure, in the future; dear representatives of diaspora present in this chamber [first of many standing ovations here], and spread across the country ; dear journalists [!!!], it's a great honor for me to be at the U.S. Congress and speak to you and all Americans."

Shortly after, in the thematic set-up of the speech, Zelensky set up the semi-contradictory messages that are fundamental to his appeal. On the one hand, complete confidence in victory. On the other, the urgent need for help now.
In these few sentences, Zelensky conveyed those messages, and also the global stakes:
"Against all odds and doom-and-gloom scenarios, Ukraine didn't fall. Ukraine is alive and kicking. [Long standing ovation.]

"And it gives me good reason to share with you our first, first joint victory. [This next part is a cumulative argument about global partnership and global stakes.]
"We defeated Russia in the battle for minds of the world. We have no fear, nor should anyone in the world have it.
"Ukrainians gained this victory, and it gives us courage which inspires the entire world.
"Americans gained this victory, and that's why you have succeeded in uniting the global community to protect freedom and international law.
"Europeans gained this victory, and that's why Europe is now stronger and more independent than ever.
"The Russian tyranny has lost control over us. And it will never influence our minds again."
Another long standing ovation met this part. People who have written speeches will recognize the ascending parallel sequence of this passage. TV viewers will have recognized Reps. Lauren Boebert and Matt Goetz sitting and not applauding while most others in the chamber were on their feet.

Shortly thereafter, the appeal to American attention and American interests:
"This battle is not only for the territory, for this or another part of Europe. The battle is not only for life, freedom and security of Ukrainians or any other nation which Russia attempts to conquer.
"This struggle will define in what world our children and grandchildren will live, and then their children and grandchildren. [Recalling Zelensky's comment through a translator, at his press conference with Biden, that "the longer this aggression lasts, there will be more parents who live for the sake of vengeance or revenge." ]

"This battle cannot be frozen or postponed. It cannot be ignored, hoping that the ocean or something else will provide a protection." [The seesaw in American foreign policy, from George Washington onward, has always been between engagement in the rest of the world, and self-protective desire for distance. This line reflects awareness of the balance.]

On what Ukraine is enduring:
"Ladies and gentlemen, Americans, [always in the speech he broadens the audience from the Congress to the public], yesterday before coming here to Washington, D.C., I was at the front line in our Bakhmut. In our stronghold in the east of Ukraine, in the Donbas. The Russian military and mercenaries have been taking Bakhmut nonstop since May. [He must have meant attacking, but it sounded like "taking," and was initially reported that way.]
"They have been taking it day and night, but Bakhmut stands. Last year — last year, 70,000 people lived here in Bakhmut, in this city, and now only few civilians stay. Every inch of that land is soaked in blood; roaring guns sound every hour. Trenches in the Donbas change hands several times a day in fierce combat, and even hand fighting. [Anyone who has read any history sees the resonance to the two devastating world wars.]
"But the Ukrainian Donbas stands." [A line clearly and strongly delivered, leading to another long standing ovation. ]

On the adversary:
"The Russians' tactic is … primitive. [The pause before "primitive" was in Zelensky's delivery, and then with a knowing, contemptuous tone to the final word.] They burn down and destroy everything they see. They sent thugs to the front lines. They sent convicts to the war."

On the current fighting:

"They [the Russians] threw everything against us, similar to the other tyranny, which is in the Battle of the Bulge. [Zelensky is building here toward one of many U.S./Ukraine comparisons, but I bet he is more familiar with that history than most of his American listeners are. By the way, my late uncle Bob Fallows was among the U.S. troops at the Battle of the Bulge.] "Just like the brave American soldiers which held their lines and fought back Hitler's forces during the Christmas of 1944. Brave Ukrainian soldiers are doing the same to Putin's forces this Christmas." [Zelensky is of course Jewish. In this speech he alludes frequently and easily to Christmas-season heroism by Ukrainians and Americans.]

Making his argument for more U.S. assistance:
"Your support is crucial, not just to stand in such fight but to get to the turning point to win on the battlefield.

"We have artillery, yes. Thank you. We have it. Is it enough? Honestly, not really. [The line was delivered informally, and got a laugh. It's the heart of the case he is making.]
"To ensure Bakhmut is not just a stronghold that holds back the Russian Army, but for the Russian Army to completely pull out, more cannons and shells are needed.
"If so, just like the Battle of Saratoga, the fight for Bakhmut will change the trajectory of our war for independence and for freedom. [Zelensky is making a historically informed analogy to battles of the U.S. Revolutionary War. How many in his American audience will know what he is talking about is another matter.]

More on the case for assistance:
"I believe there should be no taboos between us in our alliance. Ukraine never asked the American soldiers to fight on our land instead of us. [This is a blunt point —we're dying, you're not — made without self-pity.] I assure you that Ukrainian soldiers can perfectly operate American tanks and planes themselves. [This is an enormous policy dispute, addressed briefly. Some but not all of the Congressional audience stands and cheers.]

A crucial policy line:
"Each of you, ladies and gentlemen, can assist … to ensure that America's leadership remains solid, bicameral, and bipartisan." [Zelensky noticeably paused before these last two words, to be absolutely sure he said them clearly and unmistakably. He did. A big ovation followed.]

Building toward, yes, a Churchillian conclusion:
"Ladies and gentlemen , Americans, in two days we will celebrate Christmas. [He may have meant "a few days."]
"Maybe candlelit. Not because it's more romantic, no. [He sounds most at ease in English when making self-deprecating-style comments, here and with "honestly, not really" above.] But because there will be no electricity. Millions won't have neither heating nor running water. All of these will be the result of Russian missile and drone attacks on our energy infrastructure.
"But we do not complain. [A line that could come across as passive-aggressive, but in context comes across as blunt and true.] We do not judge and compare whose life is easier. [I would have cut this line, because it can't possibly be true. Any human being would judge and compare. He could skip to the argument in the next part. But, easy for me to say: He and other Ukrainians are living this nightmare.]
"Your well-being is the product of your national security; the result of your struggle for independence and your many victories.
"We, Ukrainians, will also go through our war of independence and freedom with dignity and success." [Again, as a skill-and-craft note, this is part of the speech's connection of Ukraine's present struggles with America's past and ideals.]

Near the end, "We'll celebrate Christmas even if there is no electricity, the light of our faith in ourselves will not be put out." [Everything else in the speech is carefully enough considered that I assume this sentence was planned as a smooth Christmas-and-Hanukkah combined reference.]

Recognition that Americans have welcomed Ukrainian refugees:
"Now, on this special Christmastime, I want to thank you, all of you. I thank every American family which cherishes the warmth of its home and wishes the same warmth to other people. I thank President Biden and both parties, at the Senate and the House, for your invaluable assistance. I thank your cities and your citizens [nicely put] who supported Ukraine this year, who hosted our Ukrainians, our people, who waved our national flags, who acted to help us."

Peroration:
"I know that everything depends on us, on Ukrainian armed forces.
"Yet so much depends on the world.
"So much in the world depends on you."
[You could see this rhetorical sequence coming, but it's a good one.]

And the ending:
"Just one thing, if I can, the last thing, thank you so much, may God protect our brave troops and citizens. May God forever bless the United States of America. Merry Christmas and happy, victorious New Year."
[Since the time of Ronald Reagan, U.S. presidential speeches had invariably ended with "And may God bless the United States of America"— a formula not used by pre-Reagan presidents. During the time of Joe Biden, that formula has mercifully changed to "And may God protect our troops." By accident, or as another sign of sophistication, Zelensky cites both in his close.]
Zelensky's appearance ended with the exchange of flags—a signed Ukrainian battle flag, from the front in Bakhmut, and the carefully boxed American flag that had flown over the Capitol that day. Cheers went on for minutes.
Zelensky should have thought that he had expressed his message, through the veil of another language, as powerfully as anyone could have. Because that is what he did. Slava Ukraini.
1
Behind Zelensky are of course Vice President Kamala Harris and Speaker of the House Nancy Pelosi. Behind Winston Churchill were Vice President Henry Wallace, with the dark hair on the right, and Speaker Pro Tem William P. Cole, with the white hair on the left.
There are technical differences between a "Joint Session" of Congress, like the ones who listen to presidential addresses at State of the Union or other occasions, and a "Joint Meeting," which includes members from both the House and the Senate. The gatherings that Churchill and Zelensky addressed were "joint meetings."
2
For reference, the video of Zelensky addressing the European parliament on March 1 is here; the one to the U.K. Parliament on March 8 is here; the one to the U.S. Congress on March 16 is here; and the one to the UN General Assembly in September is here. Also, the full C-Span video of his address this week is here.