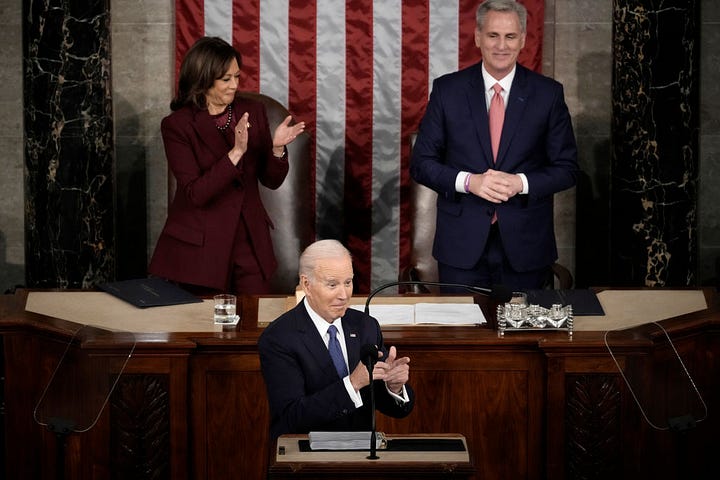 Joe Biden's State of the Union address last night was effective—for him, for his policies, for his party, and I think for the country.
Here's why. I'll start with the usual rules for this special kind of rhetoric, then move to an annotation of the speech as a whole. For the record, I've read every State of the Union (SOTU) address that was ever delivered, and have helped write two of them myself. The general principles are these:
---
1. It's about the speaker, not the speech.
Writers sweat and argue over the right lines and themes for the speech. It's wasted effort. Almost no one in the viewership will notice or care.
The lines people remember from SOTUs are mainly the bad ones. For instance, George W. Bush's infamous denunciation of the "axis of evil," in his speech that was part of the buildup for the Iraq war.
What matters in these speeches is like what finally matters in presidential "debates." It's the feel people get for the president or the candidates. Do they come across as "authentic"? Does their message match their demeanor? In the case of sitting presidents, do they seem on top of the job—or at its mercy? Are they buoyant—or beaten-down?
By all these measures, I think Biden was on the plus side. He seemed to be having fun and eager for more.
---
2. It's also about the scenes.
Fair or not, what people remember about presidential debates is not the arguments but the set-pieces. Ronald Reagan telling Jimmy Carter, "there you go again" in 1980. Bill Clinton connecting with town hall questioners in 1992, in a way the elder George Bush plainly could not. Something similar is true of SOTUs.
I don't think Joe Biden planned or imagined the scene with Marjorie Taylor Greene and the other yahoos of the Republican caucus last night. But once it happened, he brilliantly let it play out, as Charles Pierce of Esquire describes here.
Biden also implicitly skewered the GOP-run House. To Kevin McCarthy, he was gracious and complimentary. Meanwhile, McCarthy could not keep Greene et al from behaving like drunk and obnoxious UK soccer fans.
---
3. Up beats down.
Public figures can be classified as having personalities that are "up" (positive/ optimistic) or "down" (angry).
Sometimes "down" prevails. Joe McCarthy. George Wallace. Richard Nixon. Someone even more recent.
But in the long run, and most of the time, "up" pays off. People want a leader who seems happy himself or herself, and can point to a happier future.
That was the contrast not just between Biden and the GOP tribe heckling him from the floor, but also between Biden and the Republican responder, Sarah Huckabee Sanders. She started out with how terrible everything is. Biden's theme was how good everything could be.
The former approach can attract a fervid minority. The latter has usually drawn majority support.
---
4. Big tent beats niche.
After Richard Nixon's landslide win over George McGovern in 1972, the brilliant film critic Pauline Kael was falsely mocked for having allegedly said: "How could Nixon win? Everyone I know voted against him."
It appears that Kael never said that. But it became shorthand for a supposed left-wing bubble, and insulation from ordinary concerns of most ordinary people.
You could use last night's two speeches to illustrate an opposite bubble. Biden was speaking in terms addressed to most people's workaday concerns. Prescription-medicine costs. Unfair fees from a wide range of companies. Fair chances for people who don't have a four-year degree—which is the majority of Americans.
Meanwhile Sanders was talking in code intelligible mainly to those who live inside Tucker Carlson world. If you think CRT is America's main problem, she was on your wavelength. But if you are thinking about jobs and health care, Biden was talking to you.
---
5. People care about specifics.
Speechwriters love big high-falutin concepts. Most audiences want to hear, What will this mean to me?
In his 1995 State of the Union, just after landslide midterm losses in the House, Bill Clinton went down a check-off list of practical measures he would implement or support. Help for parents who wanted more control over what their children saw on TV and online. Lessons to learn from successful public schools. Detailed how-to's.
As I explained in my book Breaking the News, the punditocracy at the time ridiculed Clinton for this small-mindedness. But later data showed that the TV audience for the speech grew the longer Clinton kept on. This is a version of "president as mayor," in a good way. Most people care mainly about how government functions, not about strategy arguments among pundits and pollsters.
Biden's presentation was a reminder of that point—with references to hearing-aid prices, exorbitant fees from airlines and phone companies and hotels, other real-world challenges.
---
6. Being 'authentic' matters more than being 'smooth.'
Biden's whole presentation last night seemed rushed, as if hurrying through the speech. It led to several mis-reads from the prompter, and some hard-to-understand slurred-together words.
(Props to the White House press office for releasing both a "Prepared for Delivery" text, and the "As Delivered" version, wrong words and all.)
I think that in context this was fine rather than a problem. Anyone open-minded knows that Biden has had a life-long stutter. Maybe this was one of his ways of coping. Everyone knows these addresses are long, and would not want him to draw it out. I think he gained more in "getting to the point" than he lost in "pausing for dramatic emphasis." I note some of those moments below.
---
7. When in doubt, include an 'idea.'
They're not what most people will notice or remember about the speech. But a couple are studded in there, like cloves on a ham. Details below.
Now let's go to the text.
---
Joe Biden's 2023 State of the Union, Annotated.
What follows is the "As Delivered" text from the White House. I've highlighted some passages in bold, and added my comments in brackets and itals [like this].
This post is for paid subscribers